Risk management and data security topics can be made engaging by storification or other engaging learning activities.

Students can be asked to create these stories in many alternative ways such as visual a story boards, cartoons, comics or animations. (see attached picture)

IT students can be given a task to enter a service and detect security issues (white hat hacking; red and blue team training).
Example illustrative student story: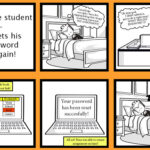 StudentStory_PenaForgetsPassword_J.Kettunen2022.
White hat (computer security). Wikipedia.